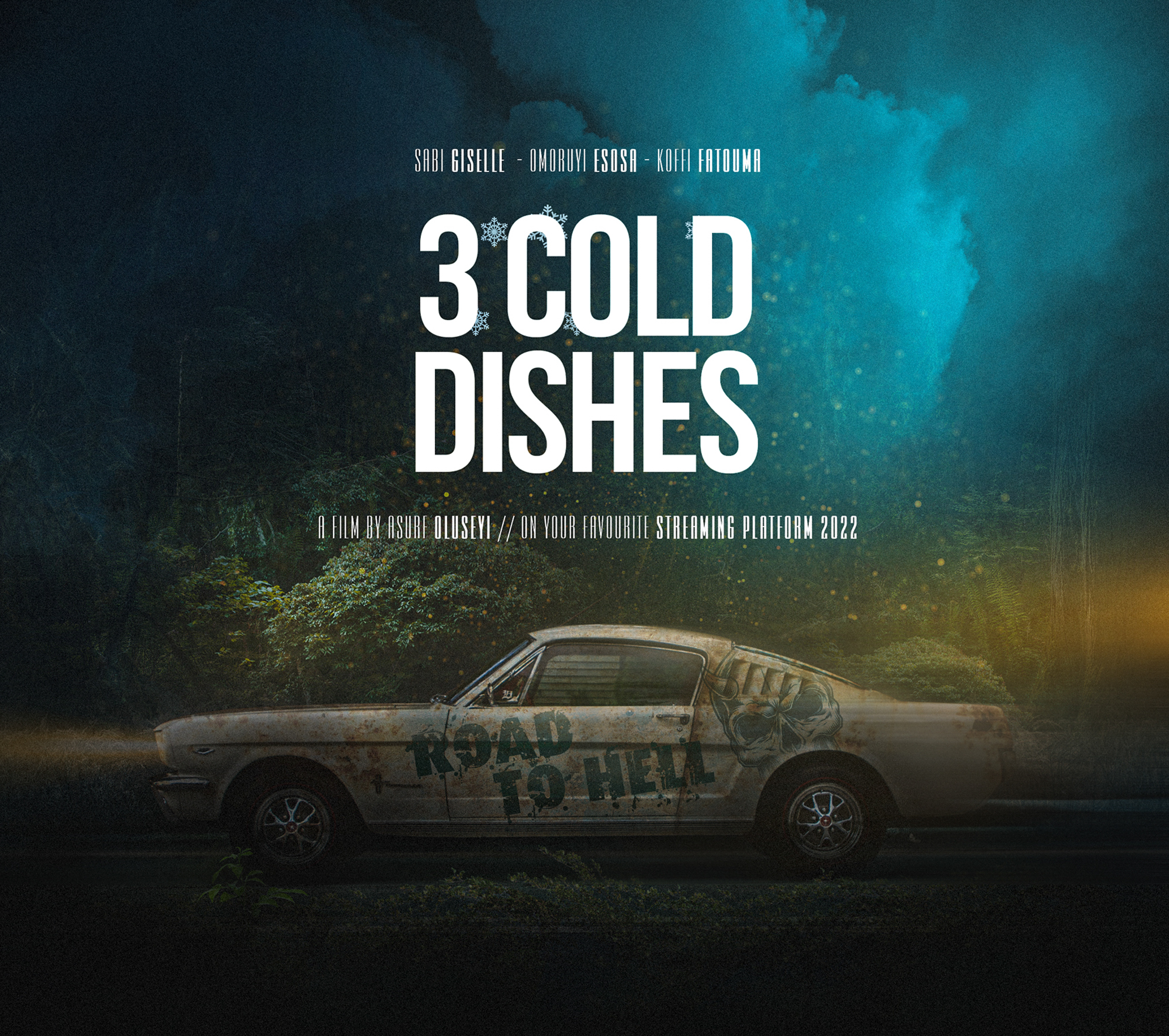 3 COLD DISHES ASSETS
3 COLD DISHES Feature Film
3 COLD DISHES TV Series
Original Music Album
Original Music Video + BTS Documentary
Digital Collectibles
FILM LOCATIONS
NIGERIA
REP. OF BENIN
COTE D'IVOIRE
LANGUAGE
GENRE
ADVENTURE, CRIME, THRILLER
SUPPORT
€ 50,000 Film support grant by OIF (The International Organization of La Francophonie) Francophonie Image Fund
Clap ACP project implemented by the OIF in partnership with the Support Fund for the Film Industry of Côte d'Ivoire (FONSIC) with the financial assistance of the European Union and the support from the Organization of ACP states.
SUPPORT
$ 50,000 Red Sea Fund (Production Support Grant) The Red Sea Film Festival Foundation recently announced the recipients of the Red Sea Fund's 2022 production and post-production funding cycles.
Thirty-six winning films were selected from different countries including Saudi Arabia and across the Middle East and Africa and 3 COLD DISHES is one of the 36 selected film for support to complete films that shed a light on important narratives, and new talents emerging from the region will be recognized.
Revenge is a dish best serve cold...especially when you've been on a diet.
In the manner of The Nile Hilton Incident, by Tarik Saleh or Viva Riva! by Djo Tunda wa Munga, and to remain on the African continent, this project offers a beautiful perspective of a genre film that can satisfy a broad audience. Since the project is a revenge story, setting it in a particular geopolitical reality gives it its dynamics and tone.
"TROIS PLATS FROID á ABIDJAN"
Three women, once victims of sex trafficking, have risen to become powerful players in the underground world of prostitution. But their success is not enough to erase the trauma of their pasts. Esosa, Fatouma, and Giselle are haunted by the men who sold them into slavery and will stop at nothing to make them pay.
Their journey takes them across West Africa, as they track down the men responsible for their suffering. But as they get closer to their goal, they realize that they are not alone. With the force of the law hot on their tails, the trio must navigate a dangerous road trip to their final destination – a fortress in Abidjan where they plan to extract their revenge.
As they face their demons and confront their pasts, the women are forced to make tough choices about their future. Will they find the closure they need or will the pursuit of justice lead them down a path of destruction?
Through the lens of this gripping thriller, we explore themes of trauma, survival, and the resilience of the human spirit. This is a story of women taking back their power, defying the odds, and fighting for justice in a world that has failed them.
In Africa, many young girls are forced into prostitution, often away from home in their country, by men close to them. The fact that the perpetrators have very diverse profiles gives depth to this film which has a complex and intensely political theme; the forced prostitution of young girls in Africa. The variety of questions the three women ask in the confrontation sequences also shows how they have experienced this trauma differently.
By multiplying the profiles and the examples, the film allows a diversity of
points of view to unfold and thus does not become reductive. Also, by focusing on the world of prostitution, the film is a genre film that mixes the criminality of the networks with a form of sociological study. But what ties the narrative together is a story of friendship and solidarity that transcends the genre.
"3 Cold Dishes" is a heart-wrenching tale of redemption and empowerment that will leave audiences on the edge of their seats, rooting for these courageous women to emerge victorious in their battle against oppression and injustice.
In this riveting film, the issue of forced prostitution of young girls in Africa takes center stage, exploring the complex and intensely political themes surrounding the topic. What makes this film unique is the diversity of the kidnappers' profiles, adding depth and complexity to the storyline. As the three women confront their captors, they ask a variety of questions, revealing how they've experienced their trauma differently. Through a multitude of profiles and examples, the film sheds light on the issue from various perspectives, offering a powerful and emotional journey that is sure to leave a lasting impact on audiences. Get ready to be taken on a thought-provoking and eye-opening ride that you won't soon forget.
"ASURFFILMS presents a 3COLDDISHES production in association with IFIND & ALMA PRODUCTION SAL MARTIAN NETWORK
a film by ASURF OLUSEYI
ODO MARIE ALEXANDRA AMON VAUTHIER AURELIE
 with WALE OJO  music by ANGELIQUE KIDJO BURNA BOY ASA TEMS BRYMO JOHNNY DRILLE AYRA STARR(All in consideration) story ASURF OLUSEYI edited by UNKNOWN screenplay by TOMI ADESINA art director MARIUS TAGBA TUNJI AFOLAYAN executive producer ASURF OLUSEYI and FRANCIS NEBOT LUIS MARQUES MICHAEL ANTWI directed by ASURF OLUSEYI and APOLLINE TRAORE
LAGOS
April 2023
3 Cold Dishes Production Begins.
Worldwide
May 2023
3 Cold Dishes Post Production Begins
Worldwide
June 2023
3 Cold Dishes 1st Teaser Drops
3 Cold Dishes Series Pitch
July 2023
3 Cold Dishes Series Development and Pitches
Premiere
Oct 2023
3 Cold Dishes further distributions (Exploring all options possible)