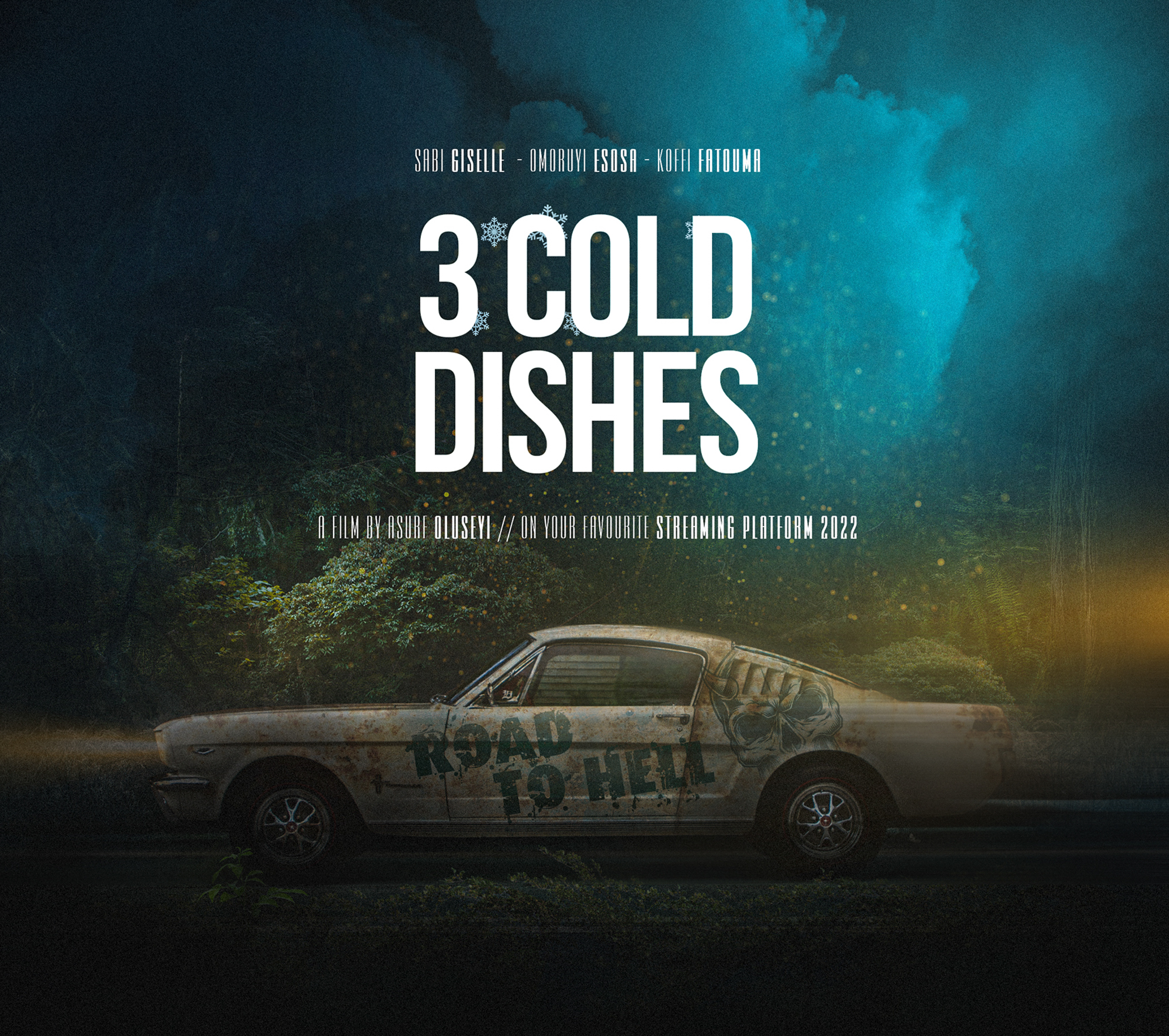 3 COLD DISHES ASSETS
3 COLD DISHES Feature Film
3 COLD DISHES TV Series
Original Music Album
Original Music Video + BTS Documentary
Digital Collectibles
FILM LOCATIONS
NIGERIA
REP. OF BENIN
COTE D'IVOIRE
LANGUAGE
GENRE
ADVENTURE, CRIME, THRILLER
CO-PRODUCTION COMPANIES
ASURF FILMS LTD (Nigeria)
NEXTHOUGHT CREATIVEHUB LTD (Nigeria)
IFIND PICTURES (France)
MARTIAN NETWORK (Netherlands)
ALMA PRODUCTIONS (Cote D'IVoire)
BLACK MIC MAC (France)
AZURENOIR & CO
SUPPORT
€ 50,000 Film support grant by OIF (The International Organization of La Francophonie) Francophonie Image Fund
Clap ACP project implemented by the OIF in partnership with the Support Fund for the Film Industry of Côte d'Ivoire (FONSIC) with the financial assistance of the European Union and the support from the Organization of ACP states.
SUPPORT
$ 50,000 Red Sea Fund (Production Support Grant) The Red Sea Film Festival Foundation recently announced the recipients of the Red Sea Fund's 2022 production and post-production funding cycles.
Thirty-six winning films were selected from different countries including Saudi Arabia and across the Middle East and Africa and 3 COLD DISHES is one of the 36 selected film for support to complete films that shed a light on important narratives, and new talents emerging from the region will be recognized.
Revenge is a dish best serve cold...especially when you've been on a diet.
In the manner of The Nile Hilton Incident, by Tarik Saleh or Viva Riva! by Djo Tunda wa Munga, and to remain on the African continent, this project offers a beautiful perspective of a genre film that can satisfy a broad audience. Since the project is a revenge story, setting it in a particular geopolitical reality gives it its dynamics and tone.
"TROIS PLATS FROID á ABIDJAN"
Traumatized by their past as sex trafficking victims, Esosa, Fatouma, and Giselle ascend to formidable heights in the shadowy realm of prostitution. Yet their newfound power cannot quiet the ghosts of their captors. On a vengeance-driven journey across West Africa, they hunt those who robbed them of their freedom.
Their quest leads them to Abidjan, with law enforcement closing in and their target fortified within the city's stronghold. As the women grapple with their past and the risks ahead, they face a crossroads: seek closure or descend into a vortex of retaliation?
This intense thriller delves into the harsh realities of survival, resilience, and the desperate pursuit of justice. It's a compelling tale of exploited women reclaiming their power, defying the system, and daring to strike back in a world that has abandoned them.
In Africa, many young girls are forced into prostitution, often away from home in their country, by men close to them. The fact that the perpetrators have very diverse profiles gives depth to this film which has a complex and intensely political theme; the forced prostitution of young girls in Africa. The variety of questions the three women ask in the confrontation sequences also shows how they have experienced this trauma differently.
By multiplying the profiles and the examples, the film allows a diversity of
points of view to unfold and thus does not become reductive. Also, by focusing on the world of prostitution, the film is a genre film that mixes the criminality of the networks with a form of sociological study. But what ties the narrative together is a story of friendship and solidarity that transcends the genre.
"3 Cold Dishes" is a heart-wrenching tale of redemption and empowerment that will leave audiences on the edge of their seats, rooting for these courageous women to emerge victorious in their battle against oppression and injustice.
In this riveting film, the issue of forced prostitution of young girls in Africa takes center stage, exploring the complex and intensely political themes surrounding the topic. What makes this film unique is the diversity of the kidnappers' profiles, adding depth and complexity to the storyline. As the three women confront their captors, they ask a variety of questions, revealing how they've experienced their trauma differently. Through a multitude of profiles and examples, the film sheds light on the issue from various perspectives, offering a powerful and emotional journey that is sure to leave a lasting impact on audiences. Get ready to be taken on a thought-provoking and eye-opening ride that you won't soon forget.
"ASURFFILMS presents a 3COLDDISHES production in association with IFIND & ALMA PRODUCTION SAL MARTIAN NETWORK
a film by ASURF OLUSEYI
ODO MARIE ALEXANDRA AMON VAUTHIER AURELIE
 with WALE OJO  music by ANGELIQUE KIDJO BURNA BOY ASA TEMS BRYMO JOHNNY DRILLE AYRA STARR(All in consideration) story ASURF OLUSEYI edited by UNKNOWN screenplay by TOMI ADESINA art director MARIUS TAGBA TUNJI AFOLAYAN executive producer ASURF OLUSEYI and FRANCIS NEBOT LUIS MARQUES MICHAEL ANTWI directed by ASURF OLUSEYI and APOLLINE TRAORE
LAGOS
April 2023
3 Cold Dishes Production Begins.
Rep of Benin
May 2023
3 Cold Dishes - In Production
Abidjan
June 2023
3 Cold Dishes - In Production
Series Development
July 2023
3 Cold Dishes Series Development Starts
Post Production
Oct 2023
Preliminary stage of Post Production
Mauritania
Nov 2023
Pick Up Scenes Shoot
Worldwide
Dec 2023
Post Production